About Us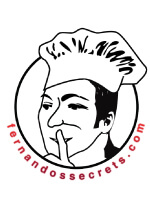 Fernando's Secrets is all about simple classic Spanish food for the American kitchen. Fernando is a Spaniard ex-pat who's lived in the Bay Area for more than 2 decades is compiling typical recipes from his childhood. Fernando hails from Barcelona but his heart and food hails from his Castilian family heritage. As a child growing up, Fernando watched his mother, a fabulous cook, prepare every-day and elaborate dishes for years. In an effort to honour his mother's influence in his culinary style.
Fernando has embarked upon this cooking expedition to bring the world his love of food and to preserve some of his most cherished childhood memories and the love his mother showered him with all her cooking secrets. Fernando's Secrets are some of the best kept meals and secret recipes that Fernando has gathered from the four corners of the world and brought to you every week in the Fernando's Secrets cooking show for you to enjoy.
The show has over 50 episodes completed and as production evolves, so have his ideas. The Paella Episode included a trip to a sponsor's store, The Spanish Table in Mill Valley, CA, and back home again. In this episode Fernando presented light canapes, the paella, and a very typical Catalan dessert- El Musico y la Flauta- to a small group of friends. Wines were paired with the courses. You can check out our YOUTUBE channel for this episode.
In 2016, Fernando caught the attention of Damien Reilly from Planet Blue Pictures and a partnership was formed. The Planet Blue Pictures team is working on new episodes and syndication of the show around the world.
Fernando at all times likes to take the viewer on a short magical journey through his 30 minute episodes to show the viewer the heart and soul of what Spanish food is all about.
The key to the success of the show so far has been Fernando's upbringing and the way he has integrated this into food that he cooks as well as his vast family friend network that always love to have him cook for them. Fernando is passionate and always enthusiastic about food and family gatherings.
For more information on how you can have Fernando's Secrets on your TV or Cable network please email sales@planetbluepictures.com
We look forward to hearing about your stories of great get together and family lunches using all the great recipes on the show. You can contact Fernando via the contact details below or make friends and like our Facebook book. Fernando tries to answer all the enquiries personally so allow at least 3 days for a response.
The Fernandos Secrets Web Team
e: sales@planetbluepictures.com
Fernandos Secrets
C/O Planet Blue Pictures USA
616 Corporate Way, Suite 2
Valley Cottage New York
USA
p: +1 917 817 7174
f: +612 9310 0166
e: sales@planetbluepictures.com
w: www.fernandossecrets.com
FB: www.facebook.com/fernandossecrets